Slip & Fall Apartment Case Settles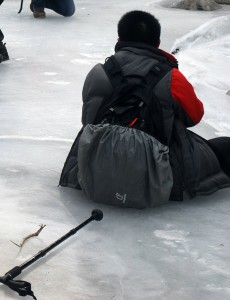 Slip and Fall at Apartment Parking Lot Settles in Southeast Michigan
This was a difficult slip and fall case that took place in Southeast Michigan.  The facts of the case are as follows.  Our client was as older woman who had some previous significant health issues.  She had lived at this apartment for many years.  The way this apartment was set up the only way to get your garbage out of your apartment was to walk it across and long parking lot to where a dumpster was located in the far corner of the parking lot.  During the winter months this became quite challenging for our client who was older.  To make matters worse the apartment was plow the parking lot but admitted that they really did not put salt down.
On this particular day our client was going to take a few small bags of trash out to the dumpster.  It was early in the morning in the winter and it was quite cold but it was not snowing at the time.  She was carefully and slowing walking when she hit a patch of ice and fell.  She had pre-existing back problems and ended up suffering a new injury in her back for which she underwent treatment.
The apartment made the argument that under current Michigan law if she could see the snow and ice and fell on it anyway, it was her fault since that is part of living in Michigan.  We made the argument that the apartment had a duty to maintain its parking lot and keep it safe for its tenants which the failed to do.  We also made the argument that taking out ones trash is a basic right and necessity and the apartment had the duty to keep the path to the dumpster safe especially since elderly residents lived there.
This case had to go into litigation into the court system but was ultimately settled.
Read more about slip and falls in Michigan at this section of our website:  https://www.mindellfirm.com/michigan-slip-and-fall-lawyers/
Please contact us for a free consultation at 800-963-5595
Client Testimonials
I APPRECIATE WHAT YOU DID FOR ME IN SUCH A TIMELY MANNER AND THE SURPRISING AMOUNT. ALSO, THANK YOU FOR RETURNING MY PHONE CALLS. A LOT OF ATTORNEYS DON'T DO THAT. I WILL DEFINITELY RECOMMEND YOU.

Sincerely,
V.P.
Dear Mr. Mindell,
Your slogan states: "Experience Dedication Success". I believe in my heart, strongly added to that should have been, "Honest Fair Integrity". For those are the finest principles in you, and that was my experience of what you most importantly instilled and guide your practice on. Thank you so much. I do so respect you.
Carol N
Hi Jeff,
You folks are amazing! It's a pleasure to work with people that under-promise and over-deliver—many thanks for all that you've done.
Kind Regards,
Linda
Glenn,
You went all out to help me when I needed it, and I want to say thank you from the bottom of my heart. You helped make my life so much better.
Thanks again,
Michelle H
PROUDLY SERVING ALL OF MICHIGAN
FOR OVER 50 YEARS
free consultation
800.963.5595 / 248.353.5595
Fax: 248.948.6677
800.963.5595 / 248.353.5595
Fax: 248.948.6677